Our region of Zurich was rocked last night by an earthquake which triggered hundeds of phone calls to the police: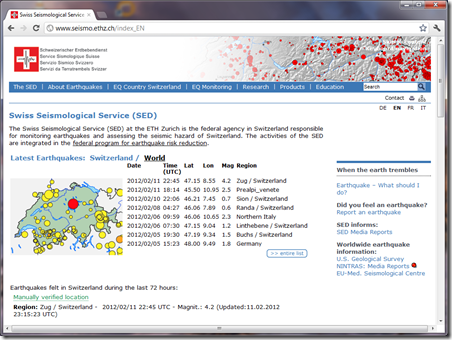 Source: http://www.seismo.ethz.ch/index_EN
You may wonder how much damage was caused or if there were any injuries due to this major event in Switzerland. Be relieved, nothing was declared so far, this mainly because the low amplitude of the seissm.
With a scale of 4.2, the earthquake features very high and well in red in the Swiss map of earthquakes. But compared to New Zealand – and this especially since the terrible events around Christchurch, it's daily business:

Source: http://www.geonet.org.nz/earthquake/quakes/recent_quakes.html
Feeling the ground shaking is always a special occasion, and while we were in New Zealand, we only felt the stronger quakes – above 5. We only seldomly felt earthquakes around 4 of magnitude, and last night in Zürich wasn't an exception to this.